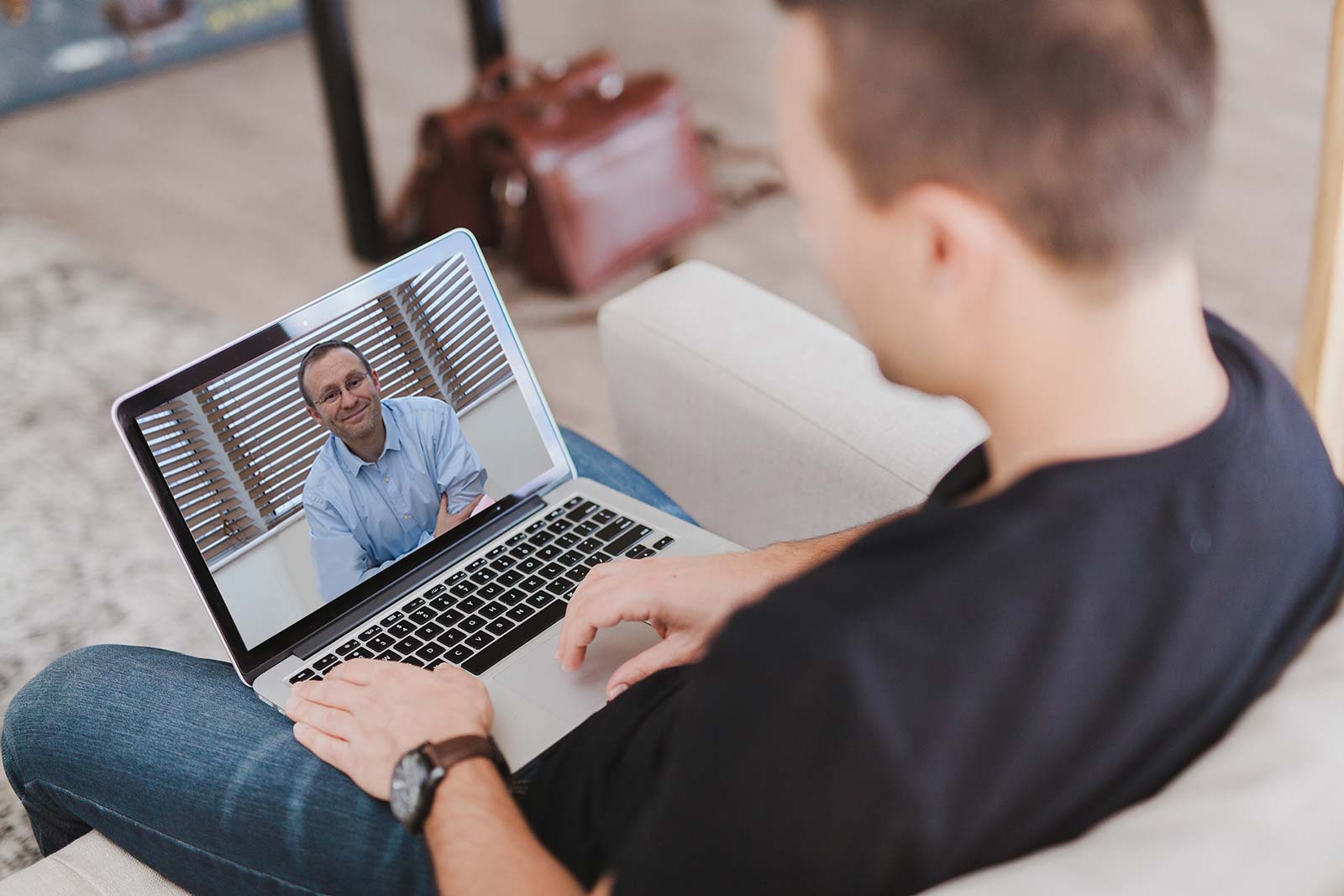 Online Therapy  - wherever you are in the world
Online Therapy is fully accessible now that digital technology has become an important part of all of our lives. While using the internet as a mode of communication for counselling and therapy may seem unusual, online video conferencing is actually an effective, confidential and convenient alternative to face-to-face sessions.
Enjoy the convenience
People can now enjoy the convenience of getting support in their own homes and offices where they feel most comfortable. An online counselling or therapy session is very similar to therapy in my consulting room. You will have an appointment to meet with me online and we will spend the same time together as we would in my office.
Online tools will enable us to see each other and respond in real-time. I find this much more effective than a phone or chat appointment, although some people prefer phone sessions. We will be able to see each other's facial expressions and hear each other's tone of voice. I can also share various ideas, diagrams and other useful information using the screen-share option.
Ring now ☏ 07931721637
You may enjoy the benefit of online therapy sessions if you:
Are struggling under social isolation.
Live in a remote place where therapy services are inaccessible.
Feel uncomfortable about visiting a therapists office or you do not want others to know that you go see a therapist.
Would like to work on yourself in a place where you feel comfortable.
Are very busy and do not have time to travel to therapy services.
Would like to try out therapy to be sure it's right for you.
Have a physical disability or illness that makes travel challenging or care for someone who does.
Travel frequently and want to continue therapy while away from home.
Is it suitable for you?
Online therapy is not suitable for everyone. There are also some difficulties with online therapy as there are topics that it is not able to adequately support. These include, but are not limited to:
Suicidal thoughts/Intent
Thoughts of harming yourself or others
Acute psychiatric episodes such as psychosis
Intoxicated or drugged states
If you are experiencing any of the above issues, please contact your doctor, seek the help of a trusted friend, family member, or mental health professional, and /or dial 999 immediately.
Online Therapy Session Tips
The following tips may be useful to make your sessions more effective:
Please try to create a private space free of distractions and other people's presence as best you can during the session times. (And preferably 10 minutes or so before and after the sessions.)
You may need to use a headset with a microphone so that you have your hands free if your speaker produces an echo.
Plan to have your materials handy –note pad, pen, etc. Even in online sessions, we will use materials and you will be expected to do some "homework" and go over it during our sessions.
If you have phones with you or in the room, please turn them off or set them in silent mode.
Plan against any distractions you think might interrupt our session – treat it as if you were in my private consulting room.
Place your computer at a comfortable height and distance to be able to "see and be seen." I prefer being able to see you at least from the waist up in order to take advantage of "body language" cues. Depending on the position of our respective cameras, we may experience difficulty with eye contact. This can be distracting, but I find that we will adjust fairly quickly.
Familiarity with Online tools
Please familiarise yourself with your preferred online program and practice using it before our first session.
If we run into difficulties during a session, I will do my best to help you troubleshoot. But it's best if you have someone who can help you on-site before or after our sessions.
If we run into "technological difficulties" we can finish our session by telephone. You can then attempt to remedy the problem(s) before our next session.
Online Technology
Online therapy and counselling are for those who are comfortable with computers and able to use videoconferencing technology.  You will need a high-speed internet connection for the best results. It is not for you if you are not comfortable with computers or unable to use video conferencing technology confidently.
The programs I use are secure, free, high-quality video conferencing programs that allow us to see and hear each other using your computer and webcam (and headset if you choose). They are free and easy to download off the internet or install as an app. They are free of adware/malware/spyware etc. and, most importantly, provide confidentiality. You can use these tools on your desktop computer, mobile phone or even tablet (such as an iPad).
Is Online Therapy Confidential?
Yes, all online sessions are encrypted to ensure privacy and confidentiality. You can read more about how the different tools protect your privacy on their respective websites.
We also offer services for other challenges like relationship anxiety. See following link for more details: Relationship Counselling Manchester
I am a registered provider of CBT Therapy. It is important your therapist is qualified and up to date with the latest advances in their field of expertise. Learn more about my qualifications so you can be assured of the quality and success of your therapy.